Globally, the company has committed to offer an electrified version of each Toyota and Lexus vehicle by 2025 and estimates that by then, it will have sold 5.5 million electrified vehicles. For information on our approach to electrification, see our feature story: Electric Avenue.
In North America, we seek to accelerate the adoption of electrified vehicles by continuously supporting education initiatives, issuing green bonds to fund the acquisition of new purchase and lease contracts, and funding hydrogen infrastructure development.
EDUCATION
We engage in a variety of activities to educate consumers and the public about our advanced technology vehicles. For example, we host ride and drive events, participate in demonstration programs with universities and government agencies, and support influential opinion leader forums, such as the Environmental Media Awards. We also partner with the Electrochemical Society (ECS) to encourage young professors and scholars to pursue research in green energy technology that may promote the development of next-generation vehicles capable of utilizing alternative fuels (see "ECS Young Investigator Fellowship" for more information).
Toyota is also a Steering Committee member of the Hydrogen Council, a global initiative of leading energy, transport and industry companies with a united vision and long-term ambition for hydrogen to foster the transition to a low carbon society. The Hydrogen Council works with and provides recommendations to several key stakeholders, including policy makers, investors, international agencies and civil society to achieve these goals. Launched at the 2017 World Economic Forum in Davos, the Council is led by two co-chairs from different geographies and sectors.
GREEN BONDS
Toyota Financial Services (TFS) issued its latest unsecured green bond, reinforcing the company's industry-leading commitment to the sale of electrified vehicles. Proceeds from the $750 million bond will be used to fund the acquisition of new retail installment contracts and operating lease contracts financing Toyota and Lexus vehicles that meet each of the three eligibility criteria:
Possess a gasoline-electric hybrid or alternative fuel powertrain.
Achieve a minimum of 40 highway and city miles per gallon (MPG or MPG equivalent).
Receive a Smog Rating of 7 or better (where 10 is the cleanest), as determined by the U.S. Environmental Protection Agency for the purchase of a vehicle in California.
There are currently seven vehicle models in the Toyota and Lexus lineup that qualify: Toyota Avalon Hybrid, Toyota Camry Hybrid, Toyota Corolla Hybrid, Toyota Mirai, Toyota Prius, Toyota Prius Prime and Lexus ES 300h.
TFS revolutionized the Green Bond market by introducing the auto industry's first-ever asset-backed green bond in 2014. This issuance marks the fifth green bond the company has issued, and its first ever unsecured green bond offered in U.S. dollars. With this latest iteration of its green bond program, Toyota increased the vehicle eligibility requirements from 35 miles per gallon to 40 miles per gallon.
The TFS green bond program was reviewed by Sustainalytics, a leading global provider of environmental, social and corporate governance research, ratings and analytics. Citigroup and Credit Agricole CIB advised TFS on the green structuring considerations for the offering. BNP, JP Morgan and Mizuho served as additional joint lead managers for the transaction.
See "Advancing Conventional Technologies" for information about Toyota's latest advanced technology vehicles.
HYDROGEN FUELING INFRASTRUCTURE
Hydrogen fueling infrastructure is key for commercialization of fuel cell electric vehicles (FCEVs) like Toyota's Mirai. The University of California Irvine estimates only 68 stations are needed to support 10,000 FCEVs state-wide, and more than 40 are already operating. The California Energy Commission (CEC) has earmarked funding for about 100 total hydrogen stations to be built over the next several years.
As an example of recent progress, Shell, in partnership with Toyota, has opened five new stations in the San Francisco and Sacramento areas, with more to come. Similarly, Iwatani has worked with Toyota to further expand the network and now operates four hydrogen stations as part of Iwatani's growing California operations.
Overall, Toyota has foundationally helped fund the development of a hydrogen infrastructure that is already supporting a growing community of more than 7,000 FCEV drivers in the United States:
With support from Toyota, FirstElement Fuels has been a primary player in developing an integrated and reliable network of fueling stations across California in target market locations consistent with the California Fuel Cell Partnership Road Map. As of August 2020, FirstElement has successfully opened 21 hydrogen stations – including a new, high capacity, four-fueling-position, liquid hydrogen-supplied station in Fountain Valley, California – and is currently developing many more of these larger liquid-hydrogen stations to further expand hydrogen fuel availability while simultaneously reducing fuel costs to FCEV customers.
In the northeastern United States, Air Liquide is working to develop and supply a fully integrated hydrogen fueling infrastructure network of strategically located stations to support the introduction of Mirai on the East Coast.
Additionally, Toyota Canada has been working closely with partners to ensure the introduction of an appropriate fueling infrastructure in Canada. In June 2018, Canada's first public retail hydrogen refueling station opened in Vancouver. In 2019, other stations opened in Québec City and in Burnaby, and more in Canada are in the works. Toyota Mirai became available for fleet purchase in Québec during the winter of 2019 and in British Columbia during the summer of 2019.
To further accelerate hydrogen infrastructure and FCEV adoption, Toyota is also actively involved in collaborations towards even bigger, heavy-duty-truck-focused hydrogen stations in order to enable much needed zero-emissions freight transport while amplifying light-duty hydrogen station efforts, leveraging network supply synergies, and speeding economies of scale. For more on heavy-duty hydrogen fuel cell vehicles, see "Zero-Emissions Freight Project."
This target measures GHG emissions intensity from owned and third-party U.S. service parts/ accessories and vehicle logistics from all transport modes (trucking, marine, air and rail). Logistics GHG intensity increased 14 percent in fiscal year 2020 compared to the previous year, mainly due to an increase in container miles from our owned parts logistics trucks. However, since the target baseline of fiscal year 2016, GHG intensity has decreased 4.7 percent, putting us on track to achieving the target.
Production control logistics are currently not included in the scope of this target. They will be included in the GHG logistics target when our new environmental action plan starts in fiscal year 2022.
Total emissions from all logistics sources – including owned and third-party service parts/accessories, vehicle, and production control – were estimated to be 759,000 metric tons CO2e in fiscal year 2020, a reduction of 1 percent from the previous year.
Toyota Transport (truck carrier) and Toyota Logistics Services (shipper) continue to participate in U.S. EPA's SmartWay® Transport Partnership, a market-driven partnership aimed at helping businesses move goods in the cleanest, most efficient way possible. One of the main purposes of SmartWay is to improve fuel efficiency and reduce GHG emissions from the movement of goods.
See "Logistics GHG Intensity" in Performance for GHG intensity performance from U.S. service parts/ accessories and vehicle logistics.
See "Suppliers" for more information on activities to reduce GHG emissions from third-party logistics.
The target covers total Scope 1 and Scope 2 GHG emissions from stationary and mobile sources at both manufacturing and non-production sites. The baseline year is fiscal year 2016. Total Scope 1 and 2 emissions have decreased 14 percent between the baseline year and fiscal year 2020. The decrease is due to energy efficiency improvements, investments in renewable energy and changes in production volumes and model mix.
See "CO2 From Operations" for information on our activities to reduce energy use and GHG emissions.
See "Greenhouse Gas Emissions" Greenhouse Gas Emissions" in Performance for GHG emissions performance data.
CO2 FROM NEW VEHICLES
Challenge 1 of the Toyota Environmental Challenge 2050 calls on all Toyota regions globally to reduce CO2 emissions from new vehicles 90 percent by 2050, from a 2010 baseline.
To achieve this challenge, Toyota is pursuing multiple pathways to reduce vehicle fuel consumption and GHG emissions and is committed to utilizing various forms of electrification, including hybrid, battery electric and fuel cell technology. We try to match technologies to customer needs and government policies in each specific region. We evaluate vehicle powertrains, weight, aerodynamics and other design factors to boost vehicle efficiency while preserving the vehicle size, power, driving range and affordability that our customers demand — without sacrificing world-class vehicle quality, durability, reliability, safety features and performance.
There are several factors that must be weighed when considering the appropriate match. That's why we research driving trends, sociological behaviors, the changing energy and transportation landscape, the synergies between vehicle fuels and technologies, and the evolution of cities. Government initiatives can also influence the adoption of advanced technologies where the market and supporting infrastructure are still developing. Researching these factors helps us understand which technologies are best suited for the circumstances in a given market.
Going forward, hybrid technology will continue to be at the foundation of Toyota's approach to minimizing the environmental impacts of gasoline-powered vehicles. Knowledge gained from hybrid development and deployment is helping Toyota accelerate the introduction of future powertrains that can utilize a wide variety of energy sources and fuels, including hydrogen and electricity. Toyota believes that we will utilize not only hybrid technology going forward, but also various additional electrified technologies, and has committed to offering an electrified version of each vehicle by 2025.
Toyota and Lexus currently have 18 electrified vehicle models on the market in North America. This includes 15 hybrid gasoline-electric vehicles, two plug-in hybrid electric vehicles and one hydrogen-powered fuel cell electric hybrid vehicle. Cumulative Toyota and Lexus electrified vehicle sales in the region are more than 4.1 million vehicles (as of August 2020). These numbers mean that Toyota will continue to use our portfolio of technologically advanced powertrains to develop and build our vehicles to readily adapt to future consumer needs while minimizing environmental impacts.
Looking further into the future, Toyota is collaborating with research entities, universities and companies on materials science research, investing in artificial intelligence to help accelerate the design and discovery of advanced materials. The research is helping to identify new advanced battery materials and fuel cell catalysts that can power future zero-emission and carbon-neutral vehicles. These efforts are helping to lay the groundwork for the future of clean energy to bring us even closer to achieving Toyota's goal of reducing global average new vehicle CO2 emissions 90 percent by 2050.
For additional information related to vehicle CO2 emissions, please see the following:
Toyota's approach to electrification feature story "Electric Avenue."
TMNA's target to foster accelerated adoption of electrified vehicles, see "Carbon Targets."
"Vehicle CO2 Emissions" data for the U.S., Canada and Mexico.
Toyota's Hybrid Electric Fleet
| MODEL | TYPE OF HYBRID ELECTRIC VEHICLE |
| --- | --- |
| Toyota Mirai | Fuel Cell Electric |
| Toyota Prius Prime | Plug-in Gasoline-Electric |
| Toyota RAV4 Prime | Plug-in Gasoline-Electric |
| Toyota Prius | Gasoline-Electric |
| Toyota Avalon Hybrid | Gasoline-Electric |
| Toyota Camry Hybrid | Gasoline-Electric |
| Toyota Corolla Hybrid | Gasoline-Electric |
| Toyota Highlander Hybrid | Gasoline-Electric |
| Toyota RAV4 Hybrid | Gasoline-Electric |
| Toyota Sienna Hybrid | Gasoline-Electric |
| Toyota Venza Hybrid | Gasoline-Electric |
| Lexus ES 300h | Gasoline-Electric |
| Lexus LC 500h | Gasoline-Electric |
| Lexus LS 500h | Gasoline-Electric |
| Lexus NX 300h | Gasoline-Electric |
| Lexus RX 450h | Gasoline-Electric |
| Lexus RX 450hL | Gasoline-Electric |
| Lexus UX 250h | Gasoline-Electric |
---
All listed models are available as of December 2020.
ADVANCING CONVENTIONAL TECHNOLOGIES
The Toyota New Global Architecture (TNGA) exemplifies key elements of our technology strategy for simultaneously reducing vehicle CO2 emissions, increasing fuel economy and boosting vehicle performance. Toyota is proud to announce new vehicle models that continue building upon the TNGA technology advancements showcased in previous North American Environmental Reports.
The latest additions to our TNGA lineup include the new 2021 Mirai, 2021 RAV4 Prime Plug-in Hybrid, 2021 Sienna and 2021 Venza. Continuing the use of TNGA enables many of the groundbreaking technologies to be shared more easily with future vehicles and is helping Toyota realize our commitment to "making ever-better cars." TNGA's integrated development supports the concept of total optimization for a lightweight, streamlined, high-performance platform and powertrain unit. TNGA helps us meet consumers' needs while continuing to improve the efficiency of our vehicles.
2021 TOYOTA MIRAI FCEV
Toyota is excited to announce a completely redesigned 2021 Mirai Fuel Cell Electric Vehicle (FCEV) based on Toyota's premium rear-wheel drive TNGA platform. The new Mirai offers improved passenger room, comfort and a new driving experience compared to its pioneering forerunner. A targeted 30 percent increase in range is achieved by improved fuel cell system performance and increased hydrogen storage capacity. At its core, the Mirai is an electric vehicle, but it never needs to be plugged in to recharge. An FCEV generates its own electricity onboard from hydrogen and oxygen, with water as the only tailpipe emission. A fill-up takes just about five minutes at a hydrogen fueling station. The second-generation Mirai, which went on sale in late 2020, delivers a significant evolution of Toyota's hydrogen FCEV powertrain technology and offers a critical look into the future.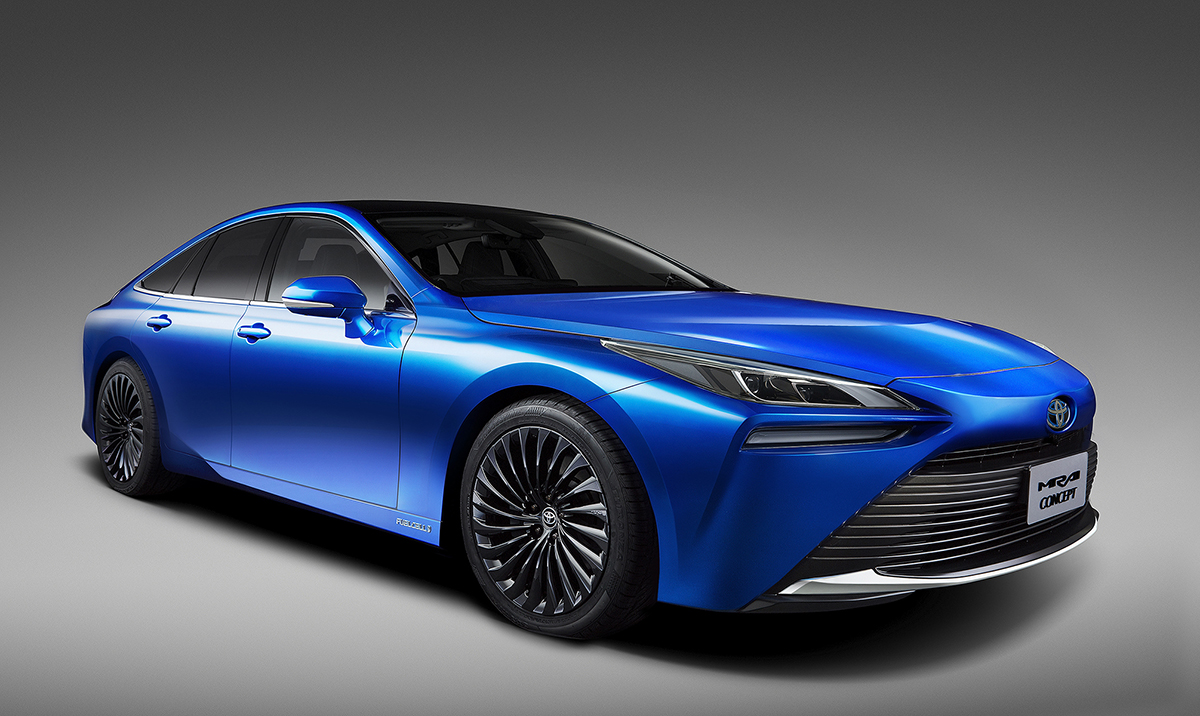 2021 TOYOTA RAV4 PRIME
The 2021 Toyota RAV4 Prime Plug-in Hybrid Electric Vehicle (PHEV) utilizes TNGA and offers the most powerful hybrid RAV4 ever. Unlike any other, the new RAV4 plug-in hybrid is celebrated for its all-electric range, spirited acceleration, nimble handling and impeccable style. The 2021 RAV4 PHEV has an EPA-estimated rating of 42 miles of all electric range, where the driver only operates the vehicle on the battery. After the driver exhausts the battery, the RAV4 Prime uses hybrid technology to give the driver excellent fuel economy and a total range of 600 miles. All of this is packaged in a vehicle that is currently Toyota's second quickest vehicle (behind the Toyota Supra) with a 0 to 60 speed of only 5.7 seconds, giving this RAV4 Prime a fuel-efficient and fun-to-drive attitude.
2021 TOYOTA SIENNA
The fourth generation Toyota Sienna reimagines the minivan to support a wider array of life stages and activities. With a standard hybrid powertrain now across all trims and an array of new tech and amenities, the 2021 Toyota Sienna raises the bar for style, safety, comfort, versatility and fuel efficiency in its segment. To give the Sienna driver confidence, a natural and intuitive connection between the driver and the vehicle is achieved with the optimized geometry of the TNGA-K Platform combined with a trailing-arm multi-link rear suspension and increased body rigidity. The Toyota Hybrid System II delivers 243 total horsepower and a manufacturer-estimated 33 combined MPG fuel economy, the latter setting a benchmark for the segment. Additionally, Sienna has an optional Predictive Efficient Drive (PED), which analyzes driving habits and memorized road and traffic conditions to optimize hybrid battery charging. When the driver activates PED, the system learns repeating routes and can predict when and where the vehicle is likely to slow down or stop. Then, through optimum accelerator pedal release timing guidance, the feature can reduce energy consumption, especially when driving through hilly areas or in traffic congestion.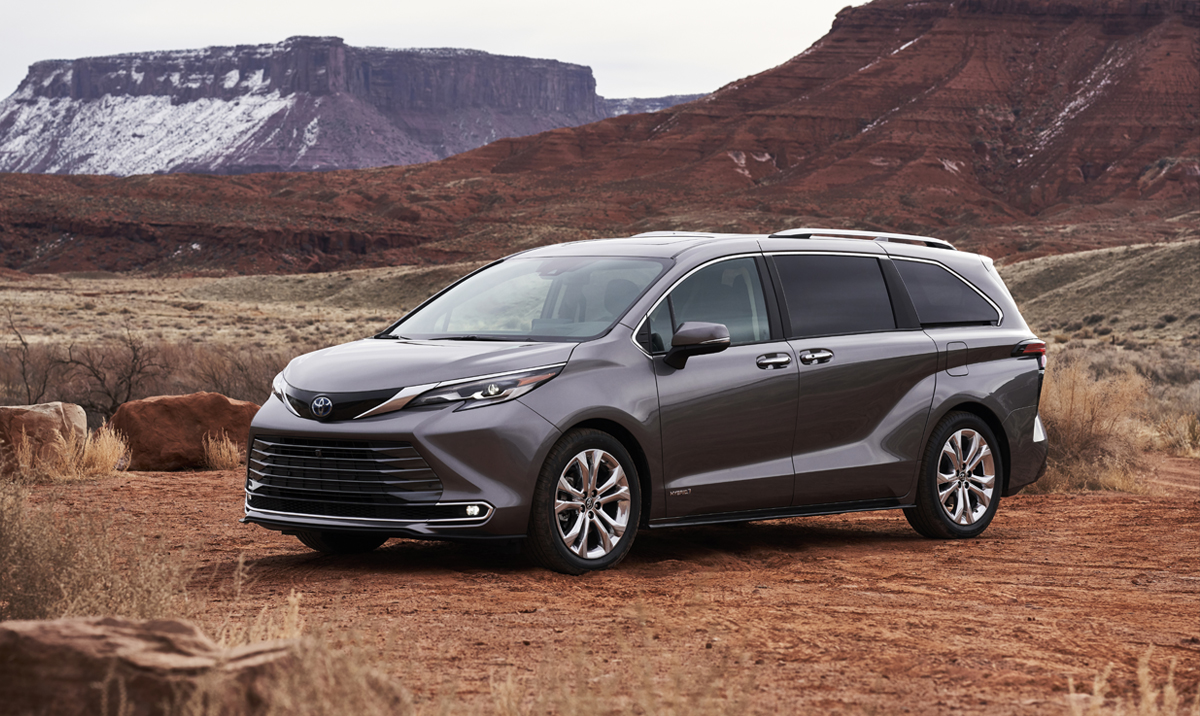 2021 Toyota Sienna Hybrid
2021 TOYOTA VENZA
The all-new 2021 Venza comes equipped exclusively with the Toyota Hybrid System II powertrain and advanced Electronic On-Demand All-Wheel Drive. The new-generation Toyota Hybrid System in the Venza combines a high-efficiency 2.5-liter DOHC four-cylinder engine with three electric motors in a highly compact system. Engine speed is synchronized with vehicle speed, yielding effortless and quiet acceleration. Venza's hybrid system also adopts a newly developed lithium-ion battery to enhance performance, size and weight. Additionally, Venza utilizes the same Predictive Efficient Drive (PED) used in the all-new Sienna. The PED uses the navigation system operation to analyze driving habits and memorize road and traffic conditions, which can help reduce energy consumption and optimize battery charging and discharging. All of this technology provides comfortable urban and highway performance in addition to impressive fuel efficiency. The new Venza has a preliminary manufacturer-estimated 40 MPG combined fuel economy in LE trim.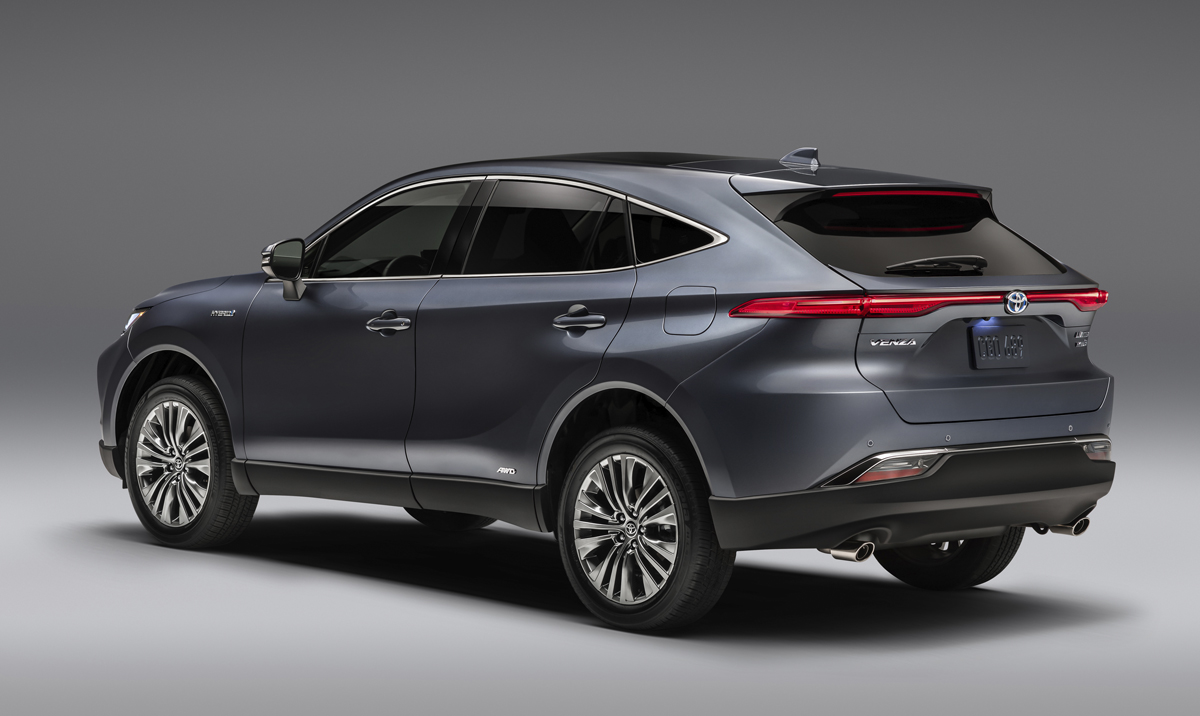 CO2 FROM DEALERS & SUPPLIERS
Challenge 2 of the Toyota Environmental Challenge 2050 calls on us to engage with our dealers and suppliers to support their efforts to eliminate GHG emissions by 2050.
DEALERS
There are approximately 1,850 Toyota and Lexus dealerships in the United States, Canada and Mexico, all independently owned franchises. The Toyota and Lexus brands work with their dealerships on an individual basis, providing vendor support for products and programs that improve energy efficiency and save money. Through efforts like the Toyota Image II facility initiative and Lexus Vision USA, dealerships incorporate the best of sales and retail by including features such as LED lighting and windows that allow for natural light.
Energy is the third highest overhead expenditure for U.S. auto dealerships. On average, auto dealerships use 18 percent more energy than typical office buildings, according to the National Automobile Dealers Association (NADA). That's why Toyota and Lexus provide guidance to dealerships on implementing sustainable strategies to achieve LEED® certification. LEED®, or Leadership in Energy and Environmental Design, emphasizes building energy efficiency and allocates almost one-third of available points to building energy efficiency. For information on Toyota and Lexus dealership LEED® certifications, see "Dealers" in Performance.
Beyond energy efficiency, we also help our dealers to source renewable energy and have partnered with SunPower® to offer support for navigating through the process of installing solar panel arrays. Solar arrays can drastically reduce a dealership's electric bills, and they generate clean energy onsite. They can also make a powerful statement to customers and the community about a dealership's commitment to the environment.
Shottenkirk Desert Lexus in Cathedral City, California, completed ground-up construction in 2020. The final touch on the new dealership was installing a 252 kW SunPower® solar panel system on the rooftop of the service building – a system that's more than 40 percent larger than the average system installed at an automotive dealership. The solar panels are expected to generate more than 428,000 kWh per year, which is an estimated 65 percent of the dealership's annual electricity needs. The clean electricity generated by the system avoids almost 100 metric tons of GHG emissions per year and is equivalent to the annual average electricity use of 16 homes.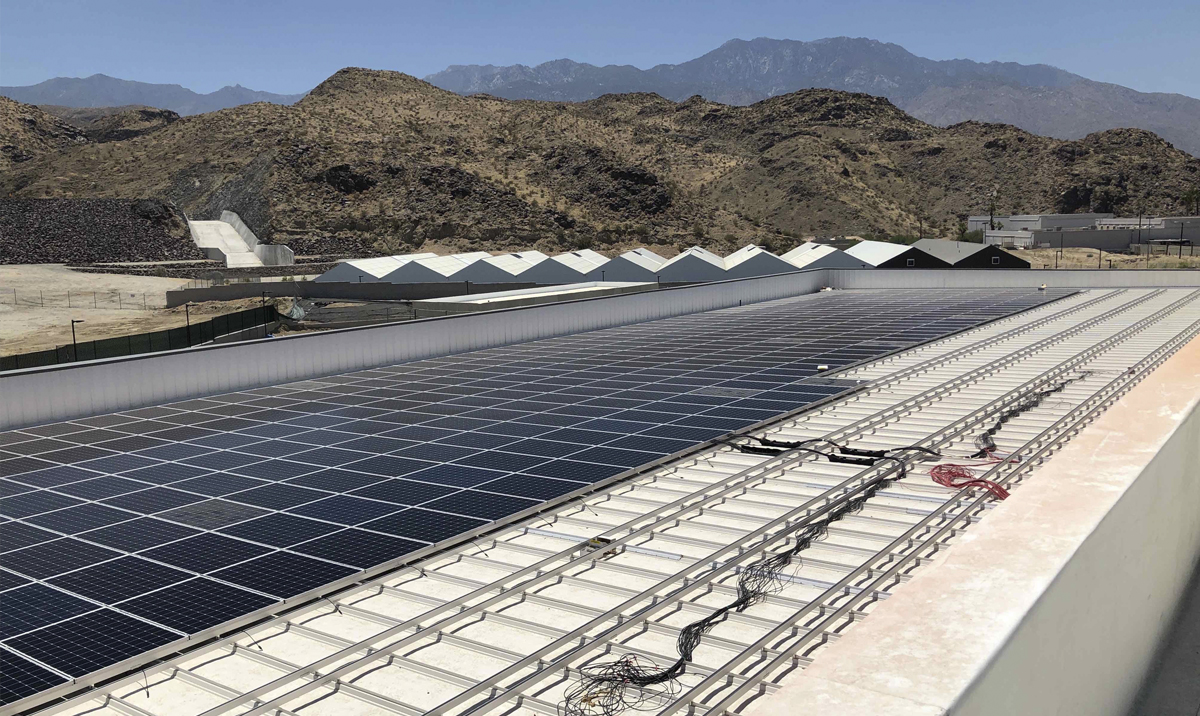 Shottenkirk Desert Lexus installed a 252 kW rooftop solar system that is expected to generate 65 percent of the dealership's annual electricity needs.
SUPPLIERS
Freight transport is a significant — and growing — contributor to greenhouse gas (GHG) emissions. According to the International Transport Forum and the Organization for Economic Cooperation and Development (OECD), GHG emissions from trade-related freight transport are expected to increase by almost a factor of four between 2010 and 2050. Experts project that by 2050, global freight transport emissions will surpass those from passenger vehicles.
In North America, the majority of TMNA's freight transport emissions are generated by third-party logistics partners. Our logistics network consists of trucking, rail and marine carriers, all working in sync to ensure smooth shipping and delivery of vehicles, parts and accessories across North America, from the supplier to the plant, to Toyota's distribution centers, and ultimately to dealerships and customers.
To help mitigate transport-related GHG emissions, TMNA's internal logistics division works with third-party partners to develop GHG reduction strategies. For example, Toyota's production control logistics group – which procures the parts and materials used to manufacture our vehicles – is working on a strategy to reduce GHG emissions from two primary sources: over-the-road transportation (OTR) and cross dock yard operations. The group's focus is converting diesel-powered OTR equipment to alternative fuels, such as renewable compressed natural gas, and to trial alternative power systems at the cross docks, such as electric shunt trucks. In 2019, the cross dock in Louisville, Kentucky, completed the replacement of half of the forklift fleet with electric forklifts and will convert the remaining forklifts as leases expire. Converting eight forklifts from liquid propane to electric results in an annual reduction of 73 metric tons CO2e.
Toyota's vehicle logistics group (TLS), which handles all finished vehicle shipments to dealerships as well as all U.S. exports to more than 20 countries, has been working with logistics partners to develop a GHG emissions reduction strategy. TLS tracks GHG metrics from each partner and works with them to pilot clean technologies, improve fuel efficiency and reduce emissions.
In 2020, TLS enacted the final phase of the GHG strategy by launching the first annual Environmental Leadership Awards. The main goal of the awards is to reward third-party partners for their efforts in supporting the Toyota Environmental Challenge 2050 goal of eliminating CO2 emissions from supplier activities. The awards were presented in March during the annual TLS Partners Meeting.
Between fiscal years 2018 and 2020, TLS and its partners have reduced total GHG emissions from transport activities by 35,000 metric tons CO2e. The 2020 winning entries provide exceptional examples of how this was accomplished:
Emissions Reduction Project Award – Crowley Maritime Corp.: Crowley introduced two of the world's first combination container/roll on-roll off (ConRo) ships powered by liquified natural gas (LNG) and created a reliable LNG supply chain for fueling the ships in Jacksonville, Florida. These vessels are used to deliver Toyota vehicles between Jacksonville and San Juan, Puerto Rico. The ships are designed to consume both diesel and LNG for electrical power and main propulsion. In 2019, the average operation on LNG during more than 100 voyages was 88 percent. Fueling the ships with LNG reduces carbon dioxide (CO2) by 38 percent per container as well as pollutant emissions, including reductions of nearly 100 percent in sulfur oxide (SOx) emissions and nearly 90 percent in particulate matter (PM) emissions, when the ships are operating on LNG instead of marine diesel oil.
Environmental Strategy Award – Southeast Toyota Distributors, LLC: Southeast partnered with Jackson Electric Membership Corporation, the local power company, to utilize an undeveloped portion of its vehicle processing center property in northeast Georgia to generate solar power. With over 3,600 solar panels and 500 kWh of battery storage, this project annually produces 2.4 million kWh of electricity, avoids 1,777 metric tons of CO2 and 21,346 pounds of NOx. Of the power produced, 29 percent is used to operate the vehicle processing center and the remainder powers the local community.
Fuel Efficiency Award – CSX Transportation, Inc.: CSX operates a fleet of more than 3,500 locomotives across its extensive rail network in the eastern United States. Because locomotive fuel use represents more than 90 percent of the company's total GHG emissions, CSX has successfully implemented several fuel-saving technologies. The railroad has installed automated cruise control devices on approximately 2,100 locomotives, shut down unnecessary backup locomotives and deployed distributed power on certain trains to reduce lateral forces and friction. These initiatives, combined with serving more direct routes, save nearly 11 million gallons of fuel per year. The automated cruise control devices alone increase fuel efficiency by as much as 10 percent. CSX's commitment to sustainable business practices have reduced GHG emissions intensity by nearly 11 percent between 2014 and 2019.
Innovation Award – Hansen & Adkins Auto Transport: Since 2016, Hansen & Adkins has been installing remote start devices on all new equipment. These devices reduce idling by allowing the driver to start the engine from the hydraulic actuator stations on both the tractor and trailer, and shut off the engine after a short time of inactivity. Idling time on trucks with remote start devices has been reduced by more than 50 percent, and fuel efficiency has improved by 0.1 to 0.2 miles per gallon. This may not seem like much, but for every million miles driven, Hansen & Adkins saves an estimated 5,000 gallons of diesel. Their trucks drive over 80 million miles per year, which equates to annual fuel savings of 400,000 gallons and 4,064 metric tons CO2 avoided.
These activities are helping Toyota make progress towards our target to reduce the GHG intensity of transport activities by 5 percent by fiscal year 2021. So far, we have reduced GHG intensity by 4.7 percent since the baseline of fiscal year 2016.
ZERO-EMISSIONS FREIGHT PROJECT
Over 16,000 trucks serve the Los Angeles and Long Beach port complexes, North America's largest trade gateway for containerized cargo. That number is estimated to double by 2030.
Toyota is committed to hydrogen-powered fuel cell electric technology as a powertrain for the future because it's a clean, scalable platform that can meet a broad range of mobility needs with zero emissions. The Zero-and Near-Zero-Emission Freight Facilities project (ZANZEFF) provides a large-scale "Shore-to-Store" hydrogen fuel cell electric technology framework that allows us to move heavy-duty truck fuel cell electric technology towards commercialization. The initiative is expected to help reduce emissions by over 453 metric tons of CO2e and NOx, ROG and PM10 by 0.72 weighted tons.
The Port of Los Angeles, a global maritime leader with respect to zero-emission and near-zero-emission technology testing and adoption, rolled out the first phase of ZANZEFF in the fall of 2020. New zero-emissions hydrogen-powered fuel cell electric heavy-duty vehicles (FCEVs) are now operating at the ports, utilizing the Kenworth T680 Class 8 model combined with Toyota's fuel cell electric technology. Four of the ZANZEFF trucks are currently operated by Toyota Logistics Services and in the future, three will be operated by United Parcel Services, two by Total Transportation Services Inc., and one by Southern Counties Express. This phase is designed to kick-start the leap to a new class of goods movement vehicles.
The new generation zero-emission truck expands on the capabilities of Toyota's first two Project Portal Proof of Concept trucks through enhanced capability, packaging and performance, with an estimated range of more than 300 miles per fill, twice that of a typical drayage trucks' average daily duty cycle. Since operations began in April 2017, the Project Portal "Alpha" and "Beta" Proof of Concept Class 8 trucks have logged more than 14,000 miles of testing and real-world drayage operations in and around the Ports of Los Angeles and Long Beach while emitting nothing but water vapor.
CARB awarded $41 million dollars to the Port of Los Angeles for the ZANZEFF project as part of California Climate Investments, a California initiative that puts billions of cap-and-trade dollars to work reducing greenhouse gas emissions, strengthening the economy and improving public health and the environment, particularly in disadvantaged communities.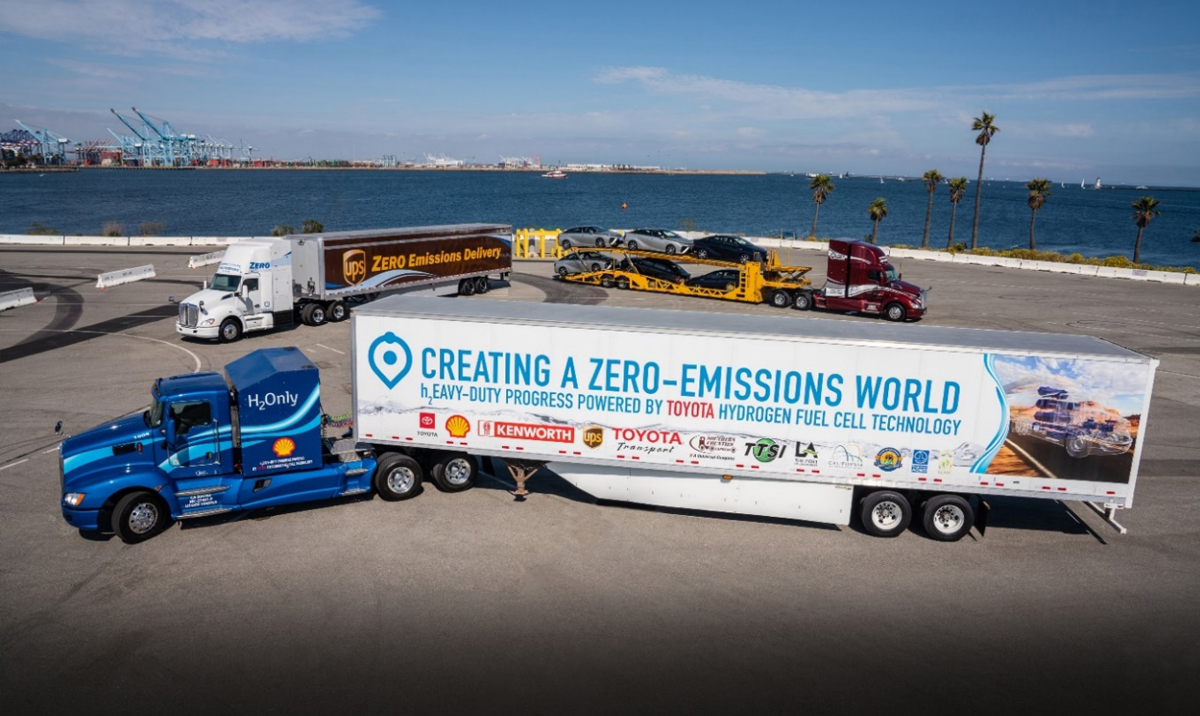 Kenworth/Toyota FCEVs under the ZANZEFF project have been rolled out in Southern California, increasing the ports' zero-emission trucking capacity and further reducing the environmental impact of drayage operations.
CO2 FROM OPERATIONS
Challenge 3 of the Toyota Environmental Challenge 2050 calls on us to eliminate all CO2 emissions from the use of energy at our facilities.
In fiscal year 2020, TMNA's use of electricity, natural gas and other fuels resulted in emissions of 1.1 million metric tons CO2e, which is a 9 percent decrease compared to the previous year and a 14 percent decrease compared to fiscal year 2016 (the baseline year of our carbon target). For energy and GHG data, see "Carbon" in Performance.
We track GHG reduction capital projects through our corporate production engineering group. Of the projects we tracked in fiscal year 2020, we counted emissions reductions from manufacturing plant activities of more than 57,000 metric tons CO2e. Our plants and other facilities continuously implement measures that impact daily operations and reduce energy consumption and GHG emissions. For example:
Improving Compressed Air System Efficiency: Toyota's powertrain facility in West Virginia implemented measures to increase the efficiency of the compressed air system. The improved system utilizes a high-pressure storage tank to reduce peak pressure demand on the central air compressors. This allows for reduction of the overall system pressure and load on the central compressors. This improvement is estimated to increase the efficiency of the compressed air system by 12 percent, leading to an annual decrease of 2,600 metric tons of CO2e emissions.
Reducing Equipment Operation During Non-Production Times: Toyota's aluminum casting plant in Missouri identified an opportunity to reduce equipment operation when not needed. Previously, the metal heat treating furnace circulation fan and heat element operated continuously. Temperature monitoring and controls were added to reduce operation during weekends and other non-production times, which saves 2,747 MWh and avoids 2,000 metric tons CO2e annually.
Converting to LED Lighting: Toyota's assembly plant in Kentucky completed an LED lighting conversion that reduces annual power consumption by 1,316 MWh and avoids 729 metric tons CO2e. The low-level fluorescent lighting in the plastics, stamping and paint shop areas was replaced with brighter, more efficient LEDs. Additional benefits are: 1) the lighting lifespan increases from three years for fluorescent lamps to 10 years for LED, and 2) usage per four-foot section decreases from 64 watts to 32 watts.
Reducing Natural Gas Consumption: Toyota's assembly plant in Tijuana, Baja California (Mexico), is utilizing exhaust waste heat from a regenerative thermal oxidizer (RTO) to preheat incoming water. Adding this preheating from the RTO exhaust waste heat has reduced the boiler's annual natural gas consumption by 80 percent and the plant's overall natural gas consumption by nearly 6 percent, avoiding 686 metric tons CO2e.
Installing VFDs on Equipment: Toyota's assembly plant in San Antonio, Texas, installed 21 variable frequency drives (VFDs) on equipment in the paint shop. VFDs save energy by varying the frequency and voltage of electric motors driving circulation pumps and fans. Additional controls can match pump and fan operation to process requirements. Combined with an "energy setback" standby mode, fans and circulation pumps in the paint booths can reduce output when no vehicles are present. These improvements are saving the plant an estimated 1,161 MWh in annual power consumption and avoiding 602 metric tons CO2e.
Optimizing Building Performance: Toyota's autoparts facility in Delta, British Columbia, added variable frequency drives (VFDs) to eight rooftop building HVAC units along with a new controller that provides the ability to optimize building energy performance. This project is expected to achieve annual savings of 1,278 MWh of electricity and 3,500 MMBtus of natural gas, and avoid 198 metric tons CO2e.
RENEWABLE POWER
According to the U.S. Energy Information Administration, renewable energy is defined as "energy from sources that are naturally replenishing but flow-limited; renewable resources are virtually inexhaustible in duration but limited in the amount of energy that is available per unit of time." Sunlight, wind, biomass and geothermal are common examples. The transition from fossil-fuel based energy sources to renewable energy sources is key to addressing climate change and to achieving the Toyota Environmental Challenge 2050.
Ramping up renewable energy generation requires a huge capital investment. Companies that might want to pursue this business opportunity need more than a vague promise of a stable market for their output. They need the ironclad assurance that only a firm commitment from a buyer can give. Virtual power purchase agreements (VPPAs) are helping accelerate the company's shift to renewable energy sources. Currently, just over 3 percent of TMNA's power consumption is from renewable sources. Once VPPAs are in place, that percentage is expected to increase to about 40.
"Nearly all the power that's consumed in this country is currently purchased an hour or a day in advance," explained Kevin Butt, senior director of Environmental Sustainability at TMNA. "What we're doing with a VPPA is making a commitment to buy power from the system owner to offset electricity Toyota will need for several years. That gives the renewable energy producers the backing they need to get the financing to expand their operations. In return, the power is put on the grid that we get our power from, and we receive the Renewable Energy Credits that accompany the electricity we need to offset our carbon footprint."
In February 2020, Toyota signed an agreement and is waiting on approval from the Kentucky Public Service Commission that would ensure that — by early 2022, if not sooner — 22 percent of Kentucky Utilities' power provided to our Georgetown operations will be renewable.
A VPPA signed in December 2019 calls for Toyota to guarantee the purchase of enough power going forward to help Clearway Energy Group secure the funding it needs to begin constructing a 110-megawatt Black Rock wind park in West Virginia in late 2020.
On a smaller scale, in California, Toyota has entered into a Hydrogen and Power Purchase Agreement for a system to be built at the Port of Long Beach that will generate hydrogen and electricity from biomass and provide onsite-generated renewable power for our vehicle logistics operation at the port. Doing so will make this project environmentally beneficial and economically viable, while it fuels a pilot fleet of hydrogen fuel cell commercial trucks.
"We're starting to embrace this strategy in a big way," says Kevin Butt. "The West Virginia project, alone, will offset 8 percent of our carbon footprint in North America. The Port of Long Beach project is much smaller. But it's very innovative and important as it will operate in one of the worst air quality districts in the country."
VPPAs are beginning to have a tangible impact on our efforts to eliminate the carbon footprint of our North American operations in keeping with the Toyota Environmental Challenge 2050. These actions, and others like them, will help to usher in a new era in energy production that is carbon-free and renewable.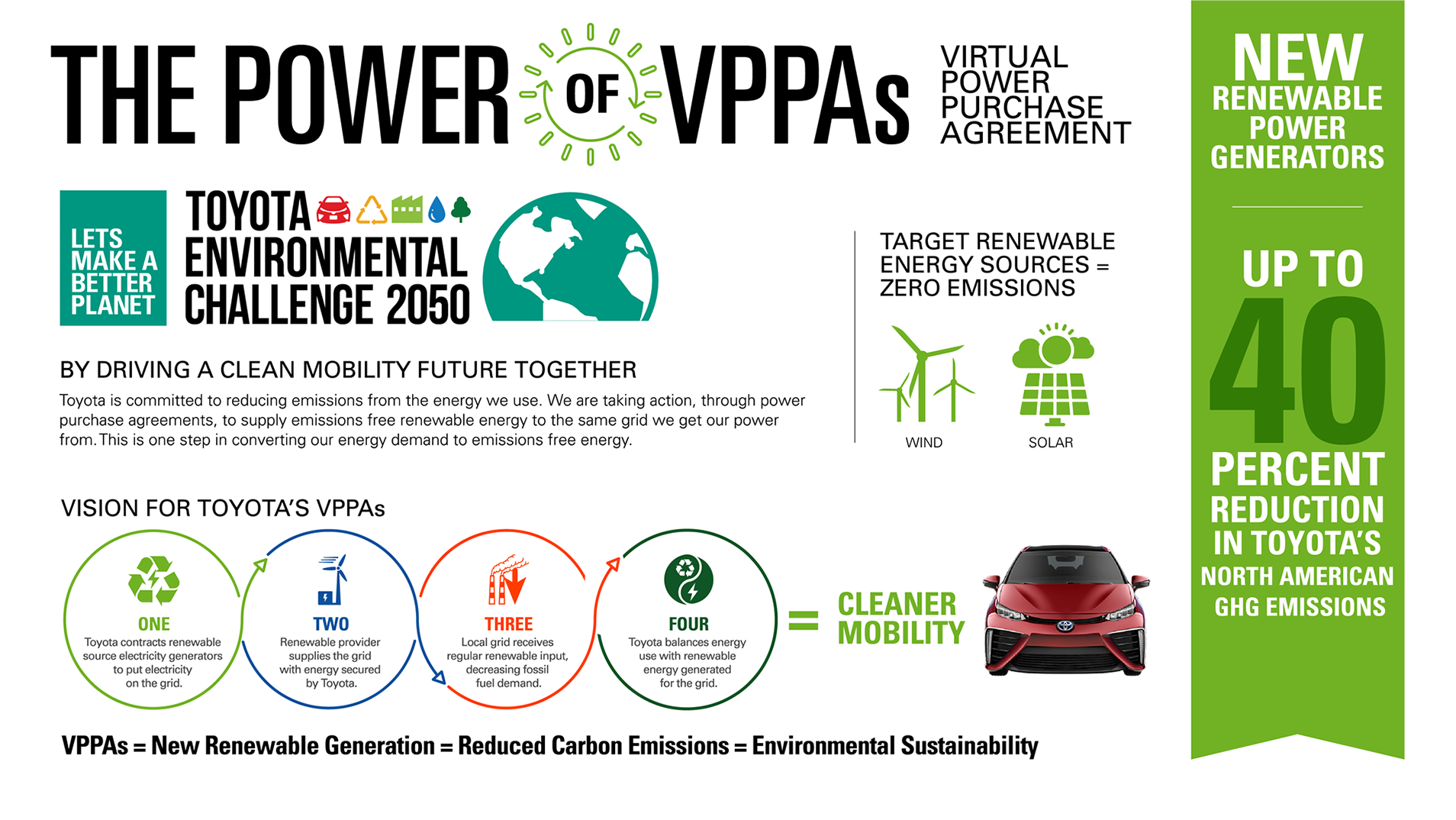 RENEWABLE POWER PARTNERSHIPS
TMNA belongs to two organizations seeking to promote the transition to zero-carbon power: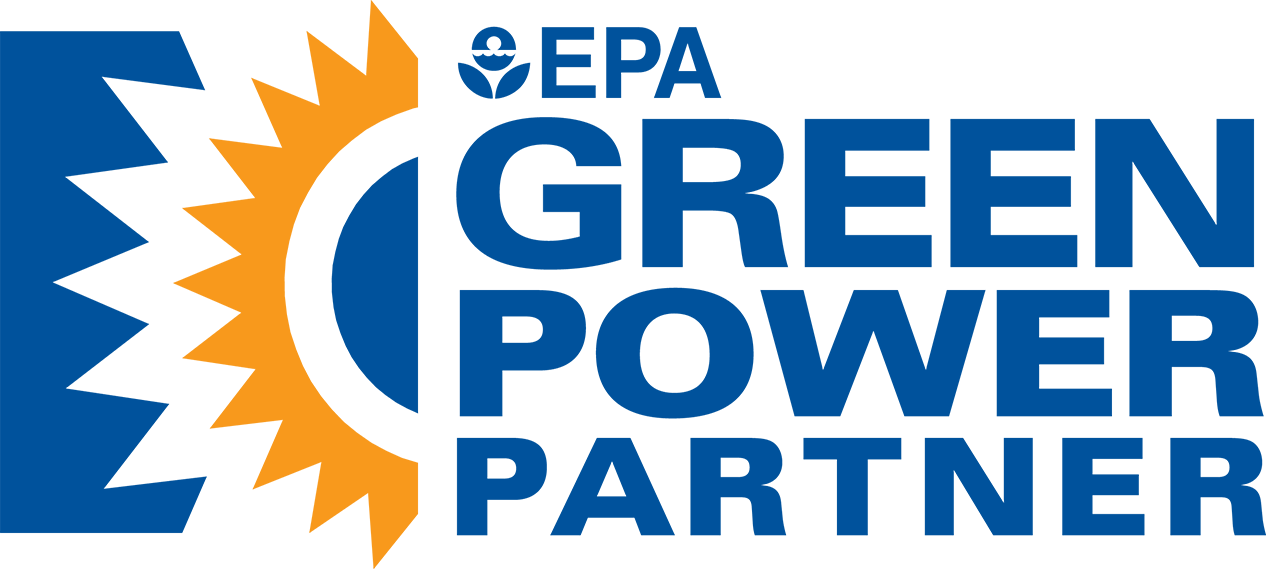 TMNA's headquarters campus in Plano, Texas, and the vehicle distribution center in Portland, Oregon, are members of U.S. EPA's Green Power Partnership. The EPA Green Power Partnership is helping to build the American green power industry. Current Partners' green power use represents nearly 40 percent of the U.S. voluntary green power market. The program provides a framework that includes credible usage benchmarks, market information, technical assistance and public recognition to companies and other organizations that use green power. In return for technical assistance and recognition, Partners commit to use green power for all, or a portion, of their annual electricity consumption. Toyota's headquarters campus uses 100 percent green power, from an onsite solar array coupled with renewable energy credits. The Portland site uses 42 percent green power, from purchasing wind power from the local utility.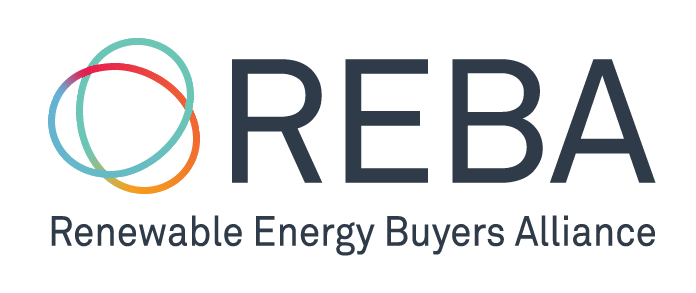 TMNA became a member of the Renewable Energy Buyers Alliance (REBA) in 2020. REBA is a membership association for large-scale energy buyers seeking to procure renewable energy across the U.S. The organization's goal is to catalyze 60 gigawatts of new renewable energy projects by 2025 and to unlock the energy market for all large-scale energy buyers by creating viable pathways to procurement.